News, Local Events
Message from Police Scotland
The Jordanhill area still appears to be targeted by house breakers and other suspicious persons. We are asked by the local Police to be vigilant and to please report any suspicious events or persons using 101, or 999 telephone numbers. Even if it turns out subsequently to have been a false alarm. Our area is still the target for vandals and anti-social behaviour, particularly the Jordanhill Campus area. There should be extra Police activity in evidence over the coming weeks.



Scottish Fire and Rescue Service Consultation
You can complete a short consultation survey online at





Police Warning

As some of you will know to your cost, there has been a spate of thefts from houses and garages in Jordanhill. Our Police Scotland contacts emphasise the need for vigilance in noting suspicious events and particularly for ensuring security of your premises. Thefts from garages are a particular issue. We are warned also about fraud involving bogus workers who quote for work to be done, accept payment then disappear. In some cases evidently 'white vans' have been implicated. Be on your guard! Jordanhill receives regular police patrols, although they cannot be everywhere all the time. Police Scotland emphasis the usefulness of 101 calls, despite scepticism from some residents.







26/01/17
Below is reply to JCC regarding the 4/4A bus



19/01/17
Scottish Government Equity Scheme

I am writing in connection with the launch of the Equity Loan Scheme on 6th January which aims to improve the energy efficiency of existing homes. The HEEPS: Equity Loan Scheme is a Scottish Government loan to help owner occupiers and private landlords improve the energy efficiency of their homes and carry out repairs to the fabric of the building. Although the loan is secured against the property, there are no ongoing repayments and the loan will generally only be repaid when the property is sold or upon the death of the last applicant. Energy Saving Trust are partnering with Glasgow Care and Repair to deliver the scheme. Care and Repair offers independent advice and assistance to help elderly and disabled homeowners repair, improve or adapt their homes so that they can live in comfort and safety in their own community. For the Equity Loan Scheme, we will liaise with all applicants and clients can access our network of approved contractors, and we will provide an enhanced level of support to elderly and vulnerable customers. Without going into all of the elements of the scheme in this email, you can access the Energy Saving Trust website via the following link-:http://www.energysavingtrust.org.uk/scotland/grants-loans/heeps/heeps-equity-loan-scheme I would be obliged if you could please make your community aware of the scheme and if they wish to discuss any aspect of the scheme further, or you wish me to attend one of your meetings, then please can contact me at this office. Regards Stephen Stephen KellyProject OfficerHEEPS Equity Loan SchemeSouthside Housing AssociationSouthside House, 135 Fifty Pitches RoadGlasgow G51 4EB 0141 433 2346

9/12/16
Letter to Jordanhill Community Council received from David Baxter Interm Head of Customer Services First Bus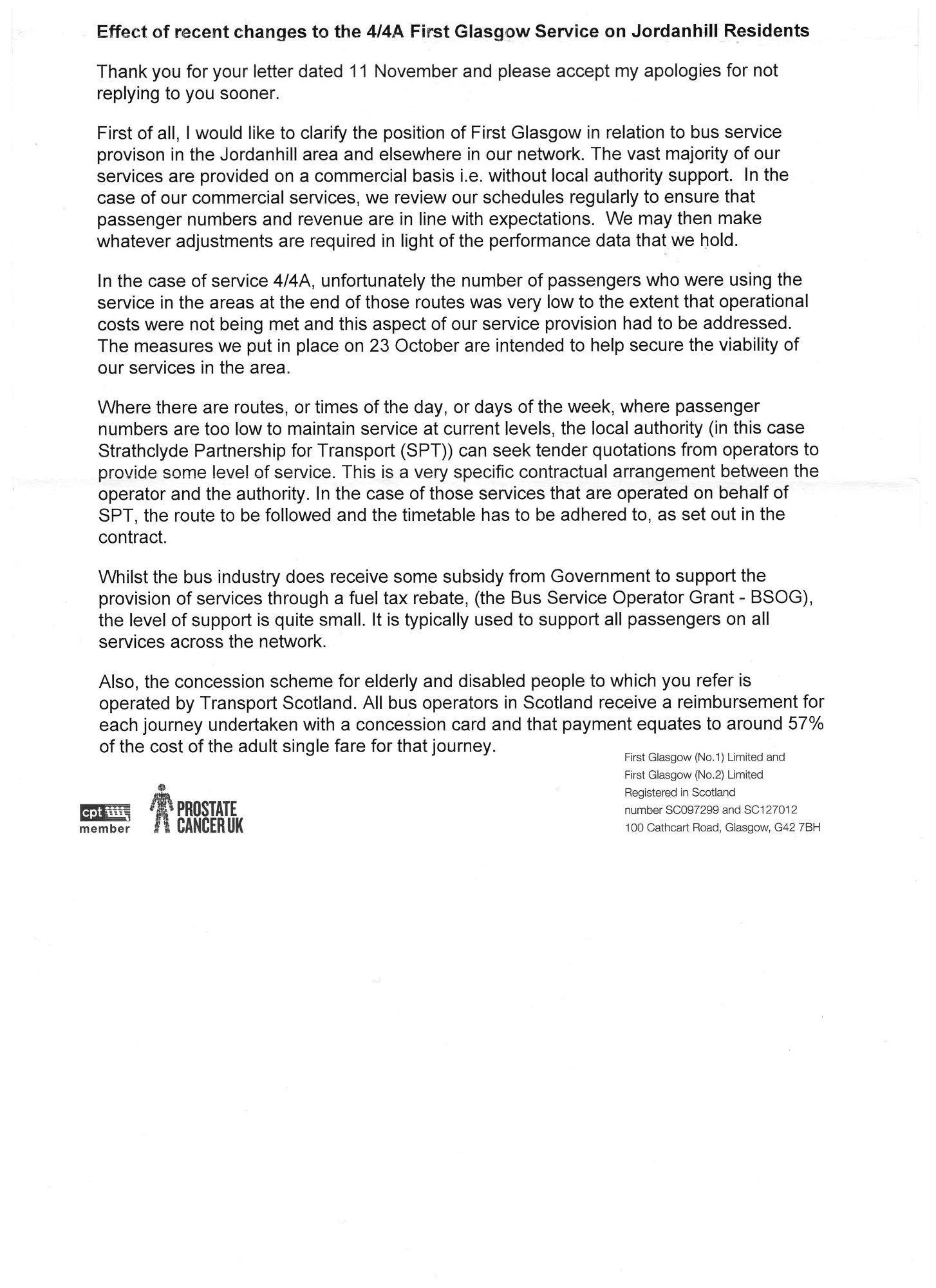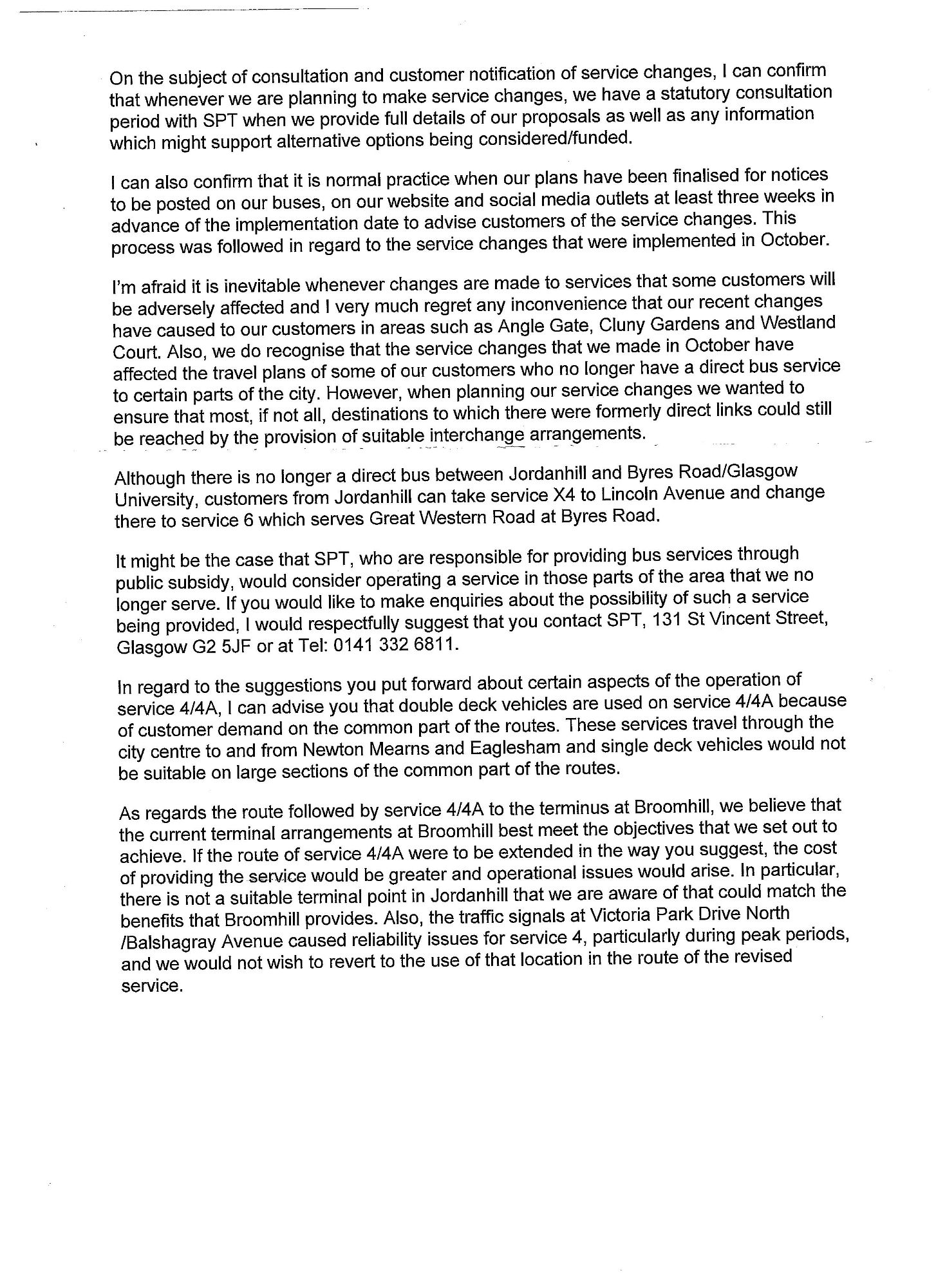 25/10/16
MYGLASGOW
Is an app. that enables you to report issues to Glasgow City Council.
E.G. Street lighting, fly tipping, parking, rubbish, roads and pavements, environmental problems.






8th October 2016
Update on 4/4A First Bus
Cllr. John Letford has arranged a meeting with First Bus and Cllr. Malcolm Balfourn has arranged to meet First Glasgow to discuss the issue on Thursday 13/10 at 10am in the City Chambers.
The general matter of the Bus cuts was raised at First Minister's Questions on Thursday.
We would also request that you bring this matter to the attention of anyone that you know who does not have internet access and may be unaware of the impact that this service loss will have on our community.





28th.Sept. 2016
Waste incinerator at Scotstoun
The Directorate for Planning and Environmental Appeals (DPEA) have issued a letter stating that the Scottish Minister's will now make a decision on the Reporter's report. All the local SNP elected members (Councillors, MSP and MP) have objected to the development to date. Link to statement below


29th. Sept. 2016

4/4A bus timetables are being revised. See below;
4/4A Newton Mearns/Eaglesham - Broomhill
Revised route and timetable introduced.
Service 4/4A will be revised to operate between Newton Mearns/Eaglesham - City Centre - Broomhill. The timetable will be revised but the current frequency over this section of route will remain.
Change of route in Newton Mearns area - Buses will now terminate at Newton Mearns Shopping Centre and will no longer serve Crookfur. Service 38 will continue to serve Crookfur on the current route and timeable.
Change of route in Eaglesham Area - On journeys to Eaglesham buses will now operate via the same route as buses currently follow from Eaglesham direct via Gilmour Street. As a result, Polnoon Street and Montgomery Street will no longer be served.
Change of route in Knightswood/Jordanhill Area - All journeys on service 4/4A will now terminate at current Broomhill terminus. The section of route between Knightswood, Lincoln Avenue and Jordanhill will be replaced by new service X4 (see X4 section for full details).
Change of route in Kelvindale Area - Service 4A will terminate at Broomhill and as a result will no longer serve Kelvindale, Anniesland and Knightswood. New service M4 will replace the section of route between Kelvindale and Anniesland during Monday to Saturday daytime (see M4 section for full details).
A petition has been set up on the link below.
https://www.change.org/p/first-bus-firstgroup-plc-stop-cuts-to-4-4a-bus-service-in-glasgow?recruiter=139887570&utm_source=share_petition&utm_medium=email&utm_campaign=share_email_responsive